Dave Stringer's rich, masculine voice makes a wonderful counterpoint to the multifaceted vocals of Spring Groove. The music favors a fusion approach that feels distinctly Indian while bearing a soulful pop edge.

Allegro Music
Delicate male and female harmonies, lovely vocal interactions.

LA Yoga
Yatra (Sanskrit: 'journey', 'procession') means a pilgrimage, and is generally undertaken in groups. The journey itself is as important as the destination, and the hardships of travel become an act of devotion in themselves.
American Kirtan singers Dave Stringer and Spring Groove have developed a devoted following in Europe through years of touring. Accompanying themselves on harmonium and accoustic guitar, and backed by an exquisite ensemble of percussionists and instrumentalists, they have become well known for their soulful vocal duets and magnetic stage presence. Yatra is an intimate chronicle of the sound they've created and the roads they've traveled together.
Featuring eight previously unrecorded songs in spacious arrangements that combine acoustic instruments from both the Western and Eastern traditions. Produced by Hans Christian. With Erhard Dengl on hackbrett (Bavarian hammer dulcimer) Miles Shrewsbery on tablas, Patrick Richey on cajon, ghatam, and mridangam, M!chaeloah Elam on trumpet and Hans Christian on cello and sarangi.
Kirtans & Bhajans Music Book – PDF version: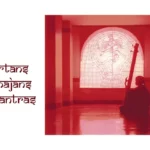 Music book contains easy to use transcriptions for harmonium and guitar of all Kirtans and Bhajans recorded by Dave Stringer, both original and traditional compositions. It's sized for an iPad, or you can print it yourself in either A5 or US 8.5 x 5.5 (half-sheet) format. This is the 216 page book that Dave gives to students at Kirtan Flight Schools in Europe, Australia and North America. Includes guitar chord charts and many translations of the original Sanskrit into German, French, Spanish and English.
Includes unlimited streaming of Live At Bhaktifest via the free Bandcamp app, plus high-quality download in MP3, FLAC and more.