Thrum is an exploration of the essential vibratory nature of the world; a collection of duets that oscillate between the poles of masculine and feminine, singing both in counterpoint and in harmony. It's a reflection of what we see, a projection of how we see it, and a meditation on who is seeing; an inquiry into the nature of love and identity in a calculus somewhere between the transient and the eternal.
Sweeping cinematically from intimate closeups to astonishing vistas, some songs are bright and point toward the sky, colored by pedal steel and trumpet. Other songs embrace the depths, shaded by a string quartet, bansuri flute and clarinet.
The music defies genre description, but it showcases the truly stellar vocal chemistry and exquisitely crafted lyrics of Dave Stringer and Sheila Nicholls. An exquisite jazz trio offers sensitive support to every track.
Thrum:
1. A continuous rhythmic humming sound
2. To drum with one's fingers.
3. In weaving, the fringe of thread left in the loom when the finished cloth is cut away.
Sheet Music + Digital album available for purchase: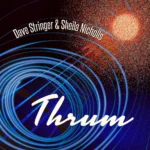 Lyrics, piano charts, guitar tunings and fingering diagrams, string and horn arrangements. Includes download of full album.
Includes unlimited streaming of Thrum via the free Bandcamp app, plus high-quality download in MP3, FLAC and more.
BUY NOW