Defiantly not your traditional kirtan album!

yogabasics.com
Stringer's most ambitious and best work to date. "Mala" is an important addition to anyone's collection of kirtan albums.

LA YogaLA Yoga Pages
Not being a practitioner of yoga, I wasn't prepared for the impact this compelling CD would have on me. The eight rather indescribable songs on Mala take on a life of their own with melodies so beautiful you may want to cry. Mala is easily one of the most ear-opening records I've heard this year.

seaoftranquility.org
Mala is a call and response kirtan CD with jazz, gypsy and country influences all evident. Dave Stringer's ingenious and unorthodox arrangements are sweeping and cinematic in scope, integrating the Indian instruments of the traditional Hindustani kirtan style with exquisite vocal harmonies and accents of lap steel, banjo, trumpet and violin.
With songs like the quietly driving 'Bhagavati' and the bouncy 'Govinda Jaya Jaya', Mala contains music that can be used both as an accompaniment to yoga and as music to listen to simply for the pleasure of it. Kirtan is a participatory form of music, so singing along with the CD can be a particularly rewarding experience (the Sanskrit lyrics are helpfully provided in the packaging).
Produced by Saul David Raye. Special guests include Sheila Nicholls, C.C. White, Joni Allen, Shanti Shivani, Suzanne Sterling, Allie Stringer, Steve Ross and Girish.
Kirtans & Bhajans Music Book – PDF version: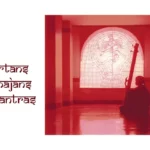 Music book contains easy to use transcriptions for harmonium and guitar of all Kirtans and Bhajans recorded by Dave Stringer, both original and traditional compositions. It's sized for an iPad, or you can print it yourself in either A5 or US 8.5 x 5.5 (half-sheet) format. This is the 216 page book that Dave gives to students at Kirtan Flight Schools in Europe, Australia and North America. Includes guitar chord charts and many translations of the original Sanskrit into German, French, Spanish and English.
Includes unlimited streaming of Live At Bhaktifest via the free Bandcamp app, plus high-quality download in MP3, FLAC and more.