Dave Stringer has integrated his interest in Kirtan, an Indian tradition of devotional chanting, with his masterful grasp of Western popular music, creating an exciting style of psychedelic pop as informed by traditional Eastern music as the Beatles.

All Music Guide
Stringer is an amazing, passionate performer. No, this isn't just gentle, soothing new age music and shouldn't be mistaken for it. It is there to engage the listener and speaks in an intuitive manner to the soul within.

Amazon.com
Hey Shiva Shankara rocks!!!! It changes my day.

Listener review

CD Baby
Amazing!!! His voice is just incredible. I'm practically addicted to this CD. I find myself taking time out to dance to it in my office during my work day.

Listener review

CD Baby
Ecstasy on a Disc. For me Dave Stringer has become the barometer by which all other devotional music is measured. These songs energize me spiritually. Time passes without notice when I listen to Japa. I find myself looking for more housework to do or wishing my drive was longer so I could keep listening.

Listener review

CD Baby
Dave Stringer's joyous and gospel-tinged Sanskrit Kirtan CD 'Japa' was made to drive and sing along to. The staff at City Yoga in West Hollywood, CA have called it "the perfect cure for road rage". Recorded in a series of live-in-the-studio sessions, 'Japa' a call-and response Kirtan CD infused with gospel-inflected vocals, barefoot grooves and improvisational epiphanies.
Produced by Saul David Raye with guest appearances by Toni Childs, Donna De Lory, Danny Peck, C.C. White, Suzanne Sterling, Joni Allen, Steve Ross, Seane Corn and Girish.
Kirtans & Bhajans Music Book – PDF version: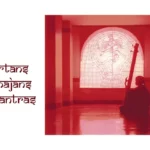 Music book contains easy to use transcriptions for harmonium and guitar of all Kirtans and Bhajans recorded by Dave Stringer, both original and traditional compositions. It's sized for an iPad, or you can print it yourself in either A5 or US 8.5 x 5.5 (half-sheet) format. This is the 216 page book that Dave gives to students at Kirtan Flight Schools in Europe, Australia and North America. Includes guitar chord charts and many translations of the original Sanskrit into German, French, Spanish and English.
Includes unlimited streaming of Live At Bhaktifest via the free Bandcamp app, plus high-quality download in MP3, FLAC and more.