Ojas captures the soulful, hair-raising essence of Dave's live kirtans.
High energy, ecstatic chanting at its best. Ojas is pure American Kirtan.

Yoga Journal
Again! Genuine emotion and passion makes kirtan soar.
Dave Stringer brings authenticity to the table and serves only fresh cuisine.
What a treat... what a leader. This is a great album!

Listener review from Amazon.com
This is an inspiring work. He and his musicians keep growing and the dynamics are excellent.
This is new ground in high energy Kirtan. Chant on!

Listener review from Amazon.com
Ojas, (pronounced with a hard j, as in "juice", a Sanskrit word meaning life force or vigor) is Stringer's newest kirtan CD, recorded live in Los Angeles, CA with a choir of 100 voices. Featured singers include C.C. White, Suzanne Sterling, Joni Allen and Allie Stringer. Supporting instruments include tablas, cajon, electric bass and guitar, vibes, trumpet, sitar, clarinet and harmonium. This is third album which Stringer has produced in collaboration with celebrated yoga teacher Saul David Raye.
The production is full and energetic, showcasing radiant vocal harmonies and sophisticated, propulsive rhythms that reference flamenco, traditional Indian folk music and straight ahead American roots rock. Instrumental overlays evoke klezmer, cool jazz and Hindustani classical music in combinations which feel simultaneously astonishing and effortless. The resulting sound perfectly captures the electrifying energy and charming spontaneity of Stringer's legendary live performances.
Kirtans & Bhajans Music Book – PDF version: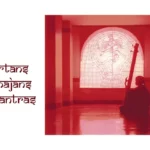 Music book contains easy to use transcriptions for harmonium and guitar of all Kirtans and Bhajans recorded by Dave Stringer, both original and traditional compositions. It's sized for an iPad, or you can print it yourself in either A5 or US 8.5 x 5.5 (half-sheet) format. This is the 216 page book that Dave gives to students at Kirtan Flight Schools in Europe, Australia and North America. Includes guitar chord charts and many translations of the original Sanskrit into German, French, Spanish and English.
Includes unlimited streaming of Live At Bhaktifest via the free Bandcamp app, plus high-quality download in MP3, FLAC and more.