Live recording from September 2010 Bhaktifest in Joshua Tree, CA. featuring vocals by C.C. White, Joni Allen and Suzanne Sterling. Recorded by Carlos Torres.
Credits: Craig Kohland – congas / Deepak Ramapriyan – violin / Denise Kaufman – bass / Jeff Andrews – hammer dulcimer, bouzouki, drum set / Jesse Kendricks – flute / John de Kadt – kanjira, frame drum / Matt Pszonak – pedal steel, electric guitar / Montino Bourbon – sarod / Patrick Richey – tabla, cajon / Special guests – The Mayapuris on Krishna Govinda
Songs: Shivo'ham, Devakinandana Gopala, Saraswati Ma, Gaja Nana, Hey Shiva Shankara, Kali Durge, Krishna Govinda, Universal prayer
Kirtans & Bhajans Music Book – PDF version: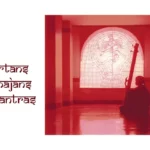 Music book contains easy to use transcriptions for harmonium and guitar of all Kirtans and Bhajans recorded by Dave Stringer, both original and traditional compositions. It's sized for an iPad, or you can print it yourself in either A5 or US 8.5 x 5.5 (half-sheet) format. This is the 216 page book that Dave gives to students at Kirtan Flight Schools in Europe, Australia and North America. Includes guitar chord charts and many translations of the original Sanskrit into German, French, Spanish and English.
Includes unlimited streaming of Live At Bhaktifest via the free Bandcamp app, plus high-quality download in MP3, FLAC and more.