Another topnotch release from America's best Kirtan wallah.

Yoga Chicago
Enticing, captivating, soulful. The beauty which I've experienced at Stringer's concerts is that the music has the capacity to take me outside of myself into a transcendental state. You get a glimpse into this state with Joyride.

LA Yoga
Joyride is a double-CD album of six full-length live call-and-response kirtans, recorded live in Santa Monica, CA with a large crowd. Four of the pieces are new compositions, two are traditional, and none have been previously recorded. The tracks average 17 minutes long, and feature a full band that traverses incredible dynamic and sonic territory, from the intimacy of Indian classical music through jazz, gospel and stadium rock. It features some of the best live kirtan sound ever captured.
Produced by Jeff Payne. With C.C. White and Joni Allen on harmony vocals, Patrick Richey on tablas and cajon, Jeff Andrews on hammer dulcimer, bouzouki and acoustic guitar, Denise Kaufman on bass and harmonica, Ambika Leigh on kartals, Josh Brill on electric guitar, Craig Kohland on congas, Domonic Dean Breaux on flute and saxophone, Montino Bourbon on sarod, and Dave Stringer on lead vocals and harmonium.
Kirtans & Bhajans Music Book – PDF version: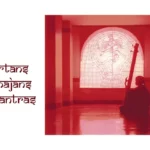 Music book contains easy to use transcriptions for harmonium and guitar of all Kirtans and Bhajans recorded by Dave Stringer, both original and traditional compositions. It's sized for an iPad, or you can print it yourself in either A5 or US 8.5 x 5.5 (half-sheet) format. This is the 216 page book that Dave gives to students at Kirtan Flight Schools in Europe, Australia and North America. Includes guitar chord charts and many translations of the original Sanskrit into German, French, Spanish and English.
Includes unlimited streaming of Live At Bhaktifest via the free Bandcamp app, plus high-quality download in MP3, FLAC and more.