Elegant and engaging, a timeless piece of art.

Yoga Chicago
Eloquently mixing the spiritual mysteries of the East with the grooving rock of the West, Dave Stringer is more than just a devout seeker of musical wisdom and beauty—he's a unifier. By the time you've reached the final, blissful "Saraswati Ma," with its gently strummed guitar, slow percussion, and gorgeous harmonies, you can take off into the celestial realms of timeless, perfect love.

Daily Om
Achingly beautiful!

CD Baby
Divas & Devas is a CD of East Indian bhajans, sung as male-female duets, in Sanskrit, Hindi and Marathi. The overall feeling is romantic, with the intimate interplay of masculine and feminine gesturing toward the larger relationship of the human and the divine. You can play the CD for spiritual effect if you like, but it also works great as a soundtrack for making love.
The instrumentation is an airy and eloquent blend of Indian tablas, sitars, and tambouras with Western guitars, cellos, and trumpets. Whether the songs melt into you like smooth Sarah McLachlan-flavored balladry—as on the gorgeous "Gunghata"—or power up your lower engines with hot rock steam and black orchid incense, the unshakable foundation of faith and bliss remains intact.
Produced by Hans Christian. Special guests include Karnamrita Dasi, Donna De Lory, Suzanne Sterling, C.C. White, Wah!, Kim Waters, Sat Kartar, Joni Allen and Allie Stringer.
Kirtans & Bhajans Music Book – PDF version: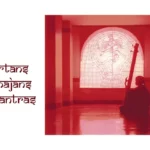 Music book contains easy to use transcriptions for harmonium and guitar of all Kirtans and Bhajans recorded by Dave Stringer, both original and traditional compositions. It's sized for an iPad, or you can print it yourself in either A5 or US 8.5 x 5.5 (half-sheet) format. This is the 216 page book that Dave gives to students at Kirtan Flight Schools in Europe, Australia and North America. Includes guitar chord charts and many translations of the original Sanskrit into German, French, Spanish and English.
Includes unlimited streaming of Live At Bhaktifest via the free Bandcamp app, plus high-quality download in MP3, FLAC and more.